Enforex understands that having a reliable, safe and comfortable place to stay during your time in Guanajuato is bound to play a significant role in a positive study abroad experience. It's important to us that our students feel at home while in Guanajuato, which is why all of our Guanajuato lodging options must pass a strict approval process prior to housing students. We monitor host families and shared apartments before, during and after your stay to ensure unfaltering quality. Enjoy learning spanish in Mexico.
Below you can get some basic background information about our student lodging options in Guanajuato.
Host Families in Guanajuato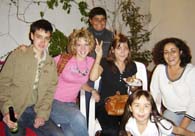 Living with a host family is the principal lodging option for students in Guanajuato. These local Mexican families provide a genuine Spanish-speaking environment in which you can truly immerse yourself in the language and culture.
Rooms: single or double
Meal plan: breakfast only, half board or full board
Shared Apartments in Guanajuato
Shared student apartments offer a lifestyle that's more independent than that of the host family program. Apartments, which are shared by students from around the world, are fully furnished. This Guanajuato lodging option does not include a meal plan, but each apartment has a fully-equipped kitchen in which students can prepare their own meals.
Rooms: single or double
Meal plan: no meal plan