Guanajuato Plazas
From large plazas shaded by trees to small "plazuelas" set around old stone fountains, Guanajuato's plazas are much more than simple city squares. Instead, they the social hubs of Guanajuato- places to meet up with friends, kick back and hang out, sip on a cool drink, take a romantic stroll or just people-watch.
Guanajuato's main plaza, the Jardín de la Unión, is the center of the city in every sense of the word. Surrounded by restaurants, hotels, a Baroque church and the stunning Teatro Juárez (Juárez Theater), it's a constant hive of activity. The triangular plaza, with its shady trees, babbling fountains and wrought-iron benches and street lamps, is the perfect spot to soak up Guanajuato's atmosphere.
Just a quick walk northeast of the Jardín de la Unión you will find Plaza del Baratillo, a pleasant square of colorful façades set around a Florentine stone fountain where several winding streets converge. This plaza is also home to a frequent open-air market, where you can peruse your way through antiques, handicrafts and other unique finds.
Neighboring the nearby Basílicia de Nuestra Señora de Guanajuato is the Plaza de la Paz, another triangle-shaped plaza set amidst colonial mansions from the city's wealthiest days. West of the Plaza de la Paz and just a few meters off of the Avenida Juárez are the colorful façades, ice cream stands and stone steps of the tiny Plazuela de los Ángeles, a favorite gathering spot of students.
Head to the other side of the Avenida Juárez for the trio of open spaces composed by the Jardín de la Reforma, Plaza San Roque and Plazuela de San Fernando. The Jardín de la Refoma's emblematic classical columns and brightly-colored façades lead towards the Plaza San Roque, where you can catch the student performances of Cervantes' "entremeses" (short theater skits) during the annual Cervantino Festival. The tiny Plazuela de San Fernando is a peaceful leafy retreat and an undeniably picturesque nook of the city.
Guanajuato Parks & Gardens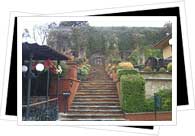 Great for strolling, picnicking or just relaxing in a peaceful atmosphere, Guanajuato serves up a healthy dose of leafy green zones away but not far from the bustling city center.
The spacious Las Acacias has formed part of the city since 1875. Columns of pink cantera stone welcome you into the park, located at the floodgates of the Presa de la Olla reservoir, and into a quiet retreat of gardens and paths. Thanks to its proximity to the reservoir, the gardens are lush and green and there are plenty of shade-providing trees. This abundant vegetation leads to a wide circular fountain as well as an octagonal pavilion, which hosts various events during the city-wide Cervantino Festival.
The Presa de la Olla reservoir itself, along with its immediate environs, is another popular spot if you're looking to spend some time away from the city action. You can even take out a row boat- peaceful and fun!
Once a mine hacienda owned by musican José Carpio, a third Guanajuato park is El Cantador ("The Singer"), a lovely park enclosed within a wrought-iron fence and pink stone columns. There are multiple entrances, all of which lead through walking paths, stone fountains and verdant gardens to a central pavilion.