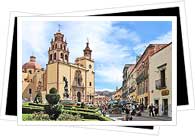 Guanajuato is, undisputedly, an extremely specal city. Set on a mountainside in the Northern Central highlands of Mexico, Guanajuato sits within a ravine at an altitude of up to 6,000 feet, making it a very unique place to visit.
When the Spanish found silver deposits in the mountains in 1559, Guanajuato rapidly became an exceedingly rich city and for a time mined one third of the world's silver. For this reason, the architecture in the city serves as a constant reminder of its rich past. There are many colonial style buildings, adorned with intricate decoration and dripping with grandeur. Especially impressive is the Teatro Juárez, the most majestic of Guanajuato's theatres, it is festooned with statues and pillars and exudes opulence.
As well as admiring the glorious architecture, churches and monuments, Guanajuato is home to a vast number of high quality museums including that of Diego Rivera, which is exhibited in the house where the great Mexican artist was born. It is also a great pleasure to wander about the tiny, winding cobbled streets of the city, or joining one of the many walking tours which operate around the historic centre. There are numerous little plazuelas to discover, and Guanajuato's position as a UNESCO World Heritage Site means that there are no modern buildings, traffic lights or neon signs to spoil the views. Guanajuato also contains a university with a student population of 20,000. This means that there is a buzzing nightlife and many bars and restaurants to enjoy.
There are also a whole host of pretty towns to explore throughout Guanajuato state that make lovely day trips from the city. To the west Silao and León, to the south, Salamanca - a beautiful example of the Mexican baroque-, and to the north Dolores Hidalgo and San Miguel de Allende.
So what are you waiting for?! Keep reading our Guanajuato travel guide and see for yourself how much there is on offer in this beautiful part of the world.