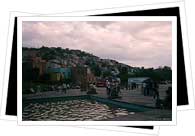 Wondering when the best time to visit Guanajuato is? Trying to narrow down what clothes to stuff into your suitcase?
Getting the scoop ahead of time on what weather to expect in Guanajuato will help you out in numerous ways. Not only will it help you plan out your days, but it will also keep you from overpacking as well as packing the wrong stuff.
Luckily, Guanajuato enjoys a mild climate all year-round. Winters are cool but not freezing and summers are hot but not simmering. While the sun is nice and warm, the city's relatively high altitude balances things out and cools the temperature down. You may want to have a jacket on hand for evenings.
Overall, it's a pretty dry climate; however, you can generally expect a bit more rain - in the form of a passing shower or afternoon thunderstorm - between the months of July and September.
Month

Average Highs (ºF / ºC)

Average Lows (ºF / ºC)

January
February
March
April
May
June
July
August
September
October
November
December

71 / 22
73 / 23
78 / 26
82 / 28
85 / 29
81 / 27
78 / 26
79 / 26
77 / 25
76 / 24
74 / 23
70 / 21

44 / 7
46 / 8
49 / 9
53 / 12
57 / 14
58 / 14
57 / 14
57 / 14
56 / 13
52 / 11
48 / 9
46 / 8