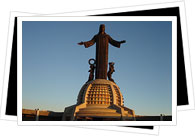 One of the most important religious monuments in all of Mexico, Cristo Rey (Christ the King) is an impressive 20-meter bronze statue of Jesus set atop the summit of the mountain Cerro de Cubilete. The colossal monument was constructed in 1950, replacing the smaller, original statue that was destroyed during the final stages of the Mexican Revolution.
The statue allegedly marks the exact geographical center of Mexico, and for religious Mexicans there is something to be said in having Jesus in the very heart of their country. As such, the statue is a popular day-trip destination for Mexicans visiting Guanajuato.
Cristo Rey is located 15 kilometers west of Guanajuato, reached via a side road branching off the road to La Valenciana. The spherical building composing the base contains a luminous, art deco sanctuary featuring a circular altar, rich shades of reds and yellows and marble floors. Outside, you can't help but take in the pure, fresh air and the liberating vistas of the wide-open Guanajuato plains.
Getting to Cristo Rey
To get up to Cristo Rey, you can take advantage of a few options. The first, and inevitably more expensive, option is to sign up for any of the tours offered by various tour agencies in Guanajuato. Tours generally last three or four hours.
However, the more economical way to get to Cristo Rey is to go on your own on one of the frequent buses running between Gaunajuato's bus station and the statue. These routes, run by Autobuses Vasallo de Cristo, leave from Guanajuato 9 times between 6:00am and 6:00pm on weekdays, with even more routes added on weekends and holidays. Plus, round-trip fare is no more than three or four dollars.