Guanajuato, Mexico Introduction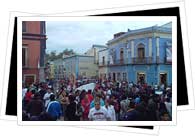 Vive la Magia de la Cultura

When: Weekends from March to September
Where: Teatro Juárez
What: An international festival featuring theater, dance, music, visual arts and countless other expressions culture, both modern and indigenous.
Baile de las Flores / Dance of the Flowers

When: March or April; Thursday before Holy Week
Where: Jardín de la Unión
What: The Baile de las Flores, a time-honored tradition held each year, features music, young men and women all decked-out in fancy dress, and the exchanging of flowers of all types, sizes and materials. The next day, the mines are opened up to the public for celebrations and sightseeing and altars to La Virgen de los Dolores (Our Lady of Sorrows) - the patron of miners - are decorated.
Festival Titerías / International Puppet Theater Festival

When: May
What: This increasingly popular event, a showcase of Mexico's puppet theater scene, has activities and events for all ages. Featuring both new and seasoned puppeteers, enjoy this festival of performances, exhibitions, workshops and much more.
San Juan and Presa de la Olla
Expresión en Corto / International Short Film Festival

When: July
Where: Guanajuato & San Miguel de Allende
What: This international film festival, taking place in the neighboring cities of Guanajuato and San Miguel de Allende, attracts participants from Mexico and abroad. Big-names in the Mexican and international film industries - actors/actresses, directors, producers, screenwriters, etc. - come to enjoy and partake in film presentations, discussions, workshops and much more!
Día de la Cueva / Cave Day

When: July 31st
Where: Cerro de los Picachos
What: Annual festival in honor of Saint Ignatius of Loyola, who founded the Jesuits- who, in turn, played a major role in the building of the city. The festivities, which take place around the cave in the nearby hills Cerro de los Picachos hills, include a country fair and festive picnic as well as traditional dances, songs and prayers.
Día de la Toma de la Alhóndiga / Day of the Taking of the Alhóndiga

When: September 28th
What: Commemoration of the historic day when Miguel Hidalgo and his rebel forces overtook the Alhóndiga in the first victory towards Mexican independence. Enjoy the annual parade honoring the victory as well as home town hero "El Pípila."
Festival International Cervantino / International Cervantino Festival
Day of the Dead / Día de los Muertos
México en Globo / Hot-Air Balloon Festival

When: November
What: Look up! Each November, hot-air balloons from all over the world take to the skies, creating a dazzling display of colors and shapes set against the bright blue skies.