Guanajuato and its surroundings are packed with things to discover, explore and experience. We want you to get a taste of it all and take full advantage of your stay with us, which is precisely why we organize cultural activities during the week and, on weekends, excursions to other Mexican destinations.
Guanajuato Activities
During the afternoons and evenings after classes are done for the day, school staff organizes a variety of activities designed for students to have fun and expand

their cultural horizons. Below are just some of the activities that might be offered during your stay:
Cooking classes
Salsa dance lessons
Films
... and many more!
Guanajuato Excursions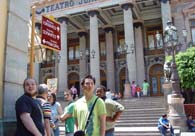 Our excursions, which are organized on weekends, provide fantastic opportunities for students who want to discover and explore the sights, cities and towns in Guanajuato's environs. Trips offered during your stay may include:
Guadalajara
San Miguel de Allende
Dolores Hidalgo
... and many more!