About San Miguel de Allende, Mexico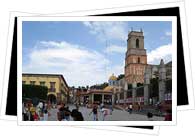 San Miguel de Allende, founded in 1542, is a great destination for a day-trip or overnight excursion from Guanajuato. Following its 1926 declaration as a National Historic Monument, development in and around the center of town has been practically non-existent, enabling the town to maintain and polish up its colonial atmosphere.
The center of town is focused around the central plaza, more commonly referred to as "El Jardín" (The Garden). Right next to it are the jaw-dropping, Gothic-inspired spires of the neighboring "parroquía"- a stunning church rising up and above the cityscape. The rest of the center branches out in all directions, all the while remaining small, compact and best explored by foot.
Another of San Miguel de Allende's best aspects is its cultural scene. Thanks to the community of expatriates who fell in love with the place and stuck around, San Miguel has had a major makeover. Visitors can enjoy the old town charm while taking advantage of all the advantages of a modern city- restaurants, bars, shopping, etc. The arts scene also has a major presence in San Miguel, where there are hoards of art galleries along with two art institutes: Bellas Artes and Instituto Allende.
Winters are cool and clear, summers are warm and clear. Many say that spring and fall are the ideal times for a visit; a great deal of the foreigners head elsewhere, leaving the city quiet, quaint and charming. While you're there, check out any of the nearby thermal springs north of San Miguel de Allende. Called "balnearios," these relaxing natural pools amidst beautiful surroundings are a grat way to spend a few hours!
San Miguel de Allende Highlights
Parroquía de San Miguel Arcángel
Museo Histórico de San Miguel de Allende
Templo de San Francisco
Templo de la Salud
Capilla de la Tercera Orden

Casa del Mayorazgo de Canal

Escuela de Bellas Artes

Instituto Allende

Colegio de Sales

Mirador & Parque Benito Juárez

Jardín Botánico El Charco del Ingenio
Getting to San Miguel de Allende
San Miguel is just a little over an hour by bus from Guanajuato. There are frequent buses leaving from Guanajuato's "Central de Autobuses" (address: Carretera a Silao, Km 8), which will then drop you off at San Miguel's small bus station located approximately 3 kilometers west of the city center.
Each day from Guanajuato to San Miguel there are two deluxe ETN buses, 4 first-class Primera Plus buses, 2 first-class Ómnibus de México buses and 10 second-class Flecha Amarilla buses.
Once you arrive in San Miguel de Allende's bus station, you can either catch a taxi to the center for about $2.00 or hop on one of the frequent local buses than run back and forth between the center of town and the station from 7:00am until 9:00pm.