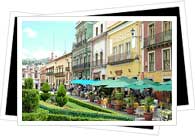 Whether you're searching for fresh picnic food or craving some top-notch Japanese, Guanajuato has a plethora of dining options that cater to all tastes. The Mercado Hidalgo (Hidalgo Market) is a great stop for food on the fly, while the neighboring Gavira Market is famous for its spread of tasty and traditional local dishes.
Another popular area for eating out is in and around the Jardín de la Unión- the city's social hub. With outdoor café tables spilling out on to the sidewalks, the plaza's restaurants and cafés are popular hang-outs and range from sushi bars to artsy cafés, vegetarian establishments, fushion restaurants and - of course - typical Mexican eateries.
The Avenida de Juárez is another part of town brimming with all sorts of restaurants, as is the Plazuela San Fernando. This small plaza is known for its constantly changing array of bars, restaurants and cafés catering to the "hip" crowd.