As a long-time hub of culture, it's no surprise that Guanajuato's winding streets hold all sorts of cultural gems. Guanajuato's eclectic array of museums, for example, will keep any culture-vulture busy and smiling. Covering anything from Mexican muralists to macabre mummies, read more about museums in Guanajuato, Mexico below:
Museo de las Momias / Mummy Museum
Guanajuato's Mummy Museum is one of the city's most popular attractions. Check out the page on the Guanajuato Mummy Museum for more information!
Museo y Casa de Diego Rivera / Diego Rivera Museum and House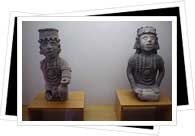 While you're in town, be sure to pop into the birthplace of one of Mexico's most prolific artists: Diego Rivera. The famous painter, known for his colossal murals and for his tumultuous marriage with Frida Kahlo, was born in Guanajuato, where he lived until his family packed up and headed to Mexico City a few years into his childhood.
While the artist - a vocal and decidedly opinionated Marxist - was once blacklisted from his rather conservative home town, the large 18th-century house once belonging to his family now serves as a tribute to his life and work. The first floor features the family's furniture, personal effects, fine 19th century antiques and turn-of-the-century pieces. Continue on upstairs to the second and third floors, where you can admire 100 works ranging from mural sketches to portraits of indigenous locals spanning the entire career of Diego Rivera
Calle Pocitos, 47
Tel: 732-11-97
Tues-Sat: 10am-6:30pm, Sun: 10am-2:30pm
Museo Iconográfico del Quijote / Don Quijote Iconographic Museum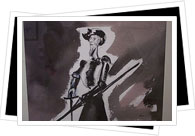 Guanajuato's Don Quijote fixation manifests itself in countless ways. In addition to the massive annual International Cervantes Festival, the Don Quijote Iconographic Museum, where every exhibit features Don Quijote, turns out to be surprisingly interesting- and not just for literature buffs!
Housed in a beautifully restored 18th century building, the museum features hundreds of works in countless media. Amble through the museum and see the delusional knight of Spanish literary fame, along with his trusty sidekick Sancho Panza, depicted in everything from oil paintings, tapestries and bronze statues to stranger knick-knacks like chess sets, coins, postage stamps and clocks. Definitely pencil a visit into your Guanajuato itinerary!
Calle Doblado, 1
Tel: 732-33-76
Tues-Sat: 10am-6:30pm, Sun: 10am-2pm
Museo del Pueblo de Guanajuato / Guanajuato Municipal Museum
Located behind the Guanajuato University, this art museum is housed in a resplendent 17th century mansion that once belonged to the Marqueses de San Juan de Rayas- owners of the lucrative San Juan de Rayas mine. Along with temporary exhibitions, the collection follows the trajectory of local artwork, with works dating from between Guanajuato's colonial epoch up through modern times. Upstairs you can check out what's left of the family's private Churrigueresque chapel; while it was defaced sometime in the 19th century, it now serves as an auditorium and still boasts an amazing original mural.
Calle Pocitos, 7
Tel: 732-29-90
Tues-Sat: 10am-6:30pm, Sun: 10am-2:30pm
Museo de la Alhóndiga de Granaditas / Alhóndiga de Granaditas Museum
The two-floor regional museum found inside the Alhóndiga de Granaditas is essentially an homage to Guanajuato's history and culture. Amble through the 18 rooms where you can discover - through permanent and temporary exhibits - everything from precolumbian archaeological finds to photographs, traditional handicrafts and historical pieces from the city's colonial era and quest for independence. Plus, learn all about local heroes like El Pípila and Miguel Hidalgo.
Corner of 28 de septiembre & Mendizabal
Tel: 732-11-12
Tues-Sat: 10am - 2pm, 4pm-6pm