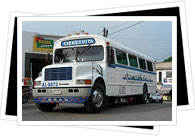 Guanajuato is essentially a compact maze of winding streets, blind alleys and uncovered surprises. As such, the best way to get around Guanajuato, see its sights and experience its vibe is on your very own two feet.
However, as some of the city's most popular stops, such as La Valenciana and the Mummy Museum, are located a bit beyond the city limits, Guanajuato's city bus network may come into play. The bus system, the "Sistema Coordinado de Transporte de Guanajuato", runs from 5:00am until 10:00pm and is extremely cheap to ride. The tourist information office (Plaza de la Paz 14; Tel: 732 19 82) is extremely helpful and can provide you with bus information, routes and maps.
Another option - particularly if your time is limited - is hopping on one of the tourist trolleys that leave from the Plaza de la Paz, right next to the Basílica de Nuestra Señora de Guanajuato. These small, trolley-like buses will take you on a sightseeing tour of the city which lasts for approximately an hour and a half.