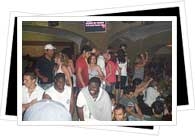 Guanajuato may be steeped in centuries of history, but that certainly doesn't mean it has an old, "early to bed" atmosphere! Once the sun goes down the city takes on new life, fueled by everything from theater shows, salsa dancing and everything in between.
The Jardín de la Unión overflows with energy in the evening hours, with tourists and locals alike crowding into the sidewalk cafés, street musicians livening up the atmosphere and people constantly coming and going. Consider just sitting back on one of the benches and soaking up the atmosphere- it's the city's best place to simply hang out.
If you're up for taking in the cultural side of Guanajuato's nightlife scene, there's bound to be cultural activity taking place any night of the week. From theater to ballet performances, concerts and Guanajuato's signature "entremeses" - students performing short skits written by Cervantes - there is always more than enough going on around town to quench your cultural thirst.
As for nightlife of the drinking and dancing variety, Guanajuato's bars and clubs are generally open between 9pm and 3am and generally really get going around 11pm. Due to the eclectic mix of tourists, expatriates, locals, artists and students, there's an equally eclectic array of nightlife establishments- salsa dancing, karaoke bars, laid-back pubs, techno-blasting nightclubs and much more. Late night dancing places are easy to find- particularly when the university year is in session.