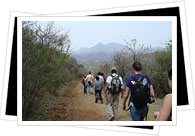 With fascinating surroundings and unbeatable weather all year-round, Guanajuato is the perfect destination for lovers of the great outdoors. From hot-air balloon rides in León to hiking through the mountainous northeastern part of Guanajuato state, there is more than enough activities in Guanajuato to keep nature-lovers and adventure-seekers busy.
Las Palomas
Located a mere 15 minute drive from Guanajuato, Las Palomas is a vast wildlife preserve and recreational zone popular with nature enthusiasts. It's the ideal spot for exploring and discovering the region's native flora and fauna; plus, its location right on the migratory path of many neo-tropical bird species heading south from North America delights bird-watchers. Not all of us are experts, which is why the preserve has trained guides who can give you not only a tour, but also the in-depth scoop about regional plants, animals, etc.
However, biodiversity isn't all that Las Palomas serves up! The mountainous terrain and natural settings attract campers, hikers and mountain-bikers from Mexico and beyond.
Sierra de Lobos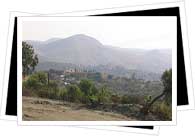 30 kilometers north of Guanajuato's neighboring city of León are the incredible landscapes of the Sierra de Lobos mountains. Along with marvelous views of the area, take advantage of the craggy terrain and serene ponds with outdoor activities like fishing, trekking and camping.
Valle de Santiago
The Valle de Santiago - or Santiago Valley - is a protected ecological zone located approximately 88 kilometers south of Guanajuato. Famous for its "siete luminarias" (seven lights), which are volcanic craters, the area boasts various microclimates that allow for the development of a wide range of flora and fauna. In addition to its fascinating wildlife, the mountainous terrain is ideal for trekking, hiking, rappelling and other outdoor activities of varying degrees of difficulty.
Cerro del Cubilete
While the Cerro del Cubilete - 40 minutes from Guanajuato - is more famous for its Cristo Rey monument, the myriad hill tops serve as great launching points for paragliding. Exciting and yet calming, paragliding will quite literally give you a bird's eye view of the beautiful landscapes.