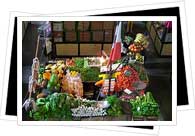 One of Mexico's most interesting facets is its artisan tradition, so whether you're looking for gifts for friends and family or on the hunt for a few souvenirs for yourself, don't limit yourself to keychains and tee-shirts! Some signature Mexican products to keep an eye out for - especially when perusing through markets - are hand made bags, baskets and leather goods. Most of these products are made by indigenous people and incorporate traditional patterns, colors and influences.
Tons of shops throughout the center offer great deals on high-quality leather products: shoes, belts, coats, etc. In fact, there's even an informal "leather district," located near the bus station around the Plaza del Zapato and Plaza Piel. In line with Guanajuato's long-standing mining history, you can easily find silver and gold jewelry, including the traditional style known as "pajarito" (little bird). Shops and markets sell beautifully-designed ceramic ware, including jars, plates, bowls, basins and other containers. Keep your eye out for the authentic hand-made ceramics known as "mayólica" and "alfarería."
For something a little different, the local prison sells hinged walnut shells that open up and reveal tiny depictions of weddings, bullfights and other village scenes and events. The nearby city of Celaya is famous for its brightly-painted dolls and masks made of papier-mache; you can find these in several shops throughout Guanajuato.
Shops in Guanajuato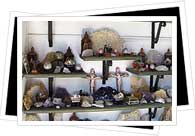 Los Milagros Bazar (C/ Alhóndiga 80)
Located within one of Guanajuato's most elegant restaurants, El Jardín de los Milagros, the Los Milagros Bazaar is part shop and part artist showcase. You'll be struck by the folkloric shapes, patterns and colors seen in the array of works in various mediums: fabrics, ceramics, wood, stone, brass, etc.
Casa del Minero (Mineral de Valenciana 6)
If you're looking to satisfy your sweet tooth, the Casa del Minero is Guanajuato's most famous regional candy stores. Don't know what to try? Some of the tasty treats include cream and coconut candies, dried fruits and preserves and its signature coconut and peanut candy twists in the shape of mummies.
El Viejo Zaguán (Pocitos 64)
This little shop pretty much has a bit of everything, including talavera pottery, shalws, candles, religious art, paintings, candy from Santa Rosa and other delightful and typically Mexican knick-knacks.
Tienda de Artesanías (Craft Shop) of the Ex-Hacienda San Gabriel de Barrera
Housed in what was once - in the 18th century - the kitchen of the Hacienda, the Tienda de Artesanías is a great place to shop for a wide range of Mexican products all hand-made by local artisans. Check out the typical "majolica" pottery wood and glass crafts, wool, brass products and much more.
La Rana (Pocitos 7)
This Mexican handicraft shop, situated in the city center, features all sorts of colorful handmade items ranging from woven baskets to blown glass, fine ceramics and typical "alebrije" animals.