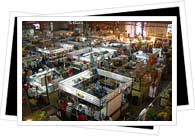 Be sure to bring along your haggling shoes, because Guanajuato is a bargain-hunters dream! An intriguing array of energetic flea markets and eclectic bazaars - not to mention the city's emblematic Mercado Hidalgo - liven up the city's streets and plazas with fresh fruit stands, antique furniture and everything in between!
Originally built to house a train station, this impressive Guanajuato market was constructed during the first years of the 20th century. The Mercado Hidalgo - located on Avenida Juárez and close to La Alhóndiga - is a bustling marketplace and a tourist attraction in its own right. Within the walls of the market, a construction with pink stone façades, dozens of windows and topped with a colossal dome and four-faced clock,you can pick up anything from local crafts to fresh food and regional sweets.
Head out the left door of the Mercado Hidalgo and into the Gavira Market, a traditional eatery with all sorts of typical Mexican bites to nibble on. Opt for the right door, and you will enter the Gavira Plaza which is home to an open-air market great to poke through.
Other popular markets in Guanajuato include the Bazar de Carretón, located below the city center, and the open-air market found in the Plaza del Baratillo. You can literally find everything from second-hand books to brass beds in the Bazar de Carretón, while the Plaza del Baratillo is known for handicrafits, typical sweets, furniture, clothing and regional toys. The latter is located behind the Iglesia de Belén, in which you can browse through an interesting array of antiques.