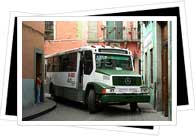 Bus travel is likely to be your best bet if you're looking to get around Mexico. In Guanajuato, countless bus lines operate out of the city's bus station: the Central de Autobuses.
Situated out in Guanajuato's southwestern outskirts, the Central de Autobuses offers daily departures to various cities in Mexico, some of which are: Dolores Hidalgo, Guadalajara, León, Mexico City, San Luis Potosí and San Miguel de Allende. To get to the bus station, you can grab a taxi or hop on one of the constant city buses running to and from the city center.
For longer trips, like the bus ride to Mexico City (minimum of 5 hours), you may want to plan ahead and consider purchasing deluxe or 1st-class tickets, which you can buy at city travel agencies. The most comfortable bus line is undoubtedly ETN, which only has 24 seats and features television, radio and food service on board.
Bus Travel in Mexico: Companies
Autobuses ETN
Tel: +52 (473) 733 1579
www.etn.com.mx
Flecha Amarilla
Tel: +52 (473) 733 1326
www.flecha-amarilla.com
Autobuses Omnibus de México
Tel: +52 (473) 733 2607
www.odm.com.mx
Autobuses Primera Plus
Tel: +52 (473) 733 1332
www.primeraplus.com.mx
Estrella Blanca
Tel: +52 (473) 733 1344
www.estrellablanca.com.mx
Guanajuato Bus Station
Central de Autobuses
Carretera a Silao, Km 8
Tel: (473) 733 1340