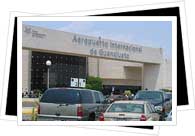 If you, like the bulk of Guanajuato-bound travelers, plan on arriving via the skies, you have a couple options. One possibility is to catch a flight to Mexico City and then continue on to Guanajuato via Mexico's bus system. However, the more popular choice is to fly right into the Aeropuerto Internacional del Bajío (Del Bajío International Airport), a small but modern airport located just 30 kilometers west of Guanajuato and halfway between León and Silao.
The Aeropuerto Internacional del Bajío handles both national and international air traffic, with constant direct routes to/ from Acapulco, Guadalajara, Mexico City, Monterrey, Puerto Vallarta, Tijuana and scores of U.S. cities.
To cover those 30 kilometers separating Guanajuato from the airport, the easiest way is a cab. Taxis are easy to find around the center of Guanajuato, and the ride to the Aeropuerto del Bajío will probably cost around $30. A second, cheaper option for a total of roughly $10 is to hop on one of the frequent buses headed from the bus station, Central de Autobuses, to Silao. From Silao, you can catch a quick cab ride to the airport.
Some of the airlines operating out of the Aeropuerto Internacional del Bajío include: Aerolitoral, Aeroméxico, American, Continental, Delta, and Mexicana.
Aeropuerto Internacional del Bajío
Carretera a Silao-León Km. 5.5
Colonia Nuevo México
C.P. 36270 Silao, Guanajuato, México
Tel: +52 (472) 748 21 20
Official airport website: guanajuato.aeropuertosgap.com.mx