The University of Guanajuato, which you can thank for the youthful vibe permeating the age-old streets, is also a major player in the city's cultural scene. Its long-running tradition of putting on performances of Cervantes' sparked the development of the internationally famous International Cervantino Festival, and today the university continues to manage diverse cultural activities as well as the year-round programming of the Teatro Principal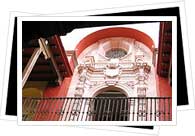 The surrounding area, along with beautiful Spanish colonial architecture flanking the streets, also boasts two fantastic museums. The first, the Museo del Pueblo de Guanajuato (Guanajuato Municipal Museum), is a surprisingly wonderful art museum housed in a 17th century mansion that once belonged to the extremely wealthy owners of the San Juan de Rayas silver mine. Enjoy temporary exhibitions as well as a permanent collection spanning the trajectory of Guanajuato's art history.
Next up is the Museo y Casa de Diego Rivera (Diego Rivera Museum and House)- a must for any art buff! The birth home of Guanajuato's most famous son, Mexican muralist Diego Rivera, is now part-house and part-museum. The first floor of the 18th-century home is furnished with the family's fine antiques and personal effects. Head to the second and third floors to revel in the diverse pieces on display that cover Rivera's entire creative life.
Where to experience culture in and around the University
Museo y Casa de Diego Rivera / Diego Rivera Museum & House
Museo del Pueblo de Guanajuato / Guanajuato Municipal Museum