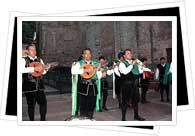 Guanajuato's evening "estudiantinas" - also known as "callejoneadas - comprise what is undeniably one of the city's most enjoyable traditions. On weekend evenings around 8:00pm, head down to the Church of San Diego, right off the central Jardín de la Unión, where the estudiantinas get things started. During festivals, you can expect the music and merriment each day.
The tradition, said to have originated in Spain, features a group of light-hearted professional musicians and singers dressed to the nines in traditional garb. Once a good-sized crowd has gathered, the whole mob - led by the musicians - snakes through the winding alleyways of the city to the sounds of singing and playing. Between songs, they tell stories and jokes to entertain the crowd and keep them entertained.
Wine also plays a part in the estudiantinas, sometimes even carried through the city streets atop a burro. There's a small charge for any wine you consume along the route, but taking part in the estudiantinas is otherwise free- so don't be convinced by pesky vendors insisting you need tickets!