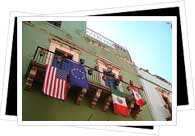 While Guanajuato was a city built thanks to its wealth of precious metals, you certainly don't have to be a silver baron to stay here. The city is brimming with accommodations to satisfy all preferences and price ranges, including for those of us who travel on a budget!
"Albergues" and "hostales" in Guanajuato are dispersed throughout the city, generally in the proximity of the major attractions of the city center. These accommodations, ranging from basic backpackers' favorites to quaint hostels resembling hotels, are generally friendly, family-run establishments. Some even have leafy courtyards and sun-soaked roof-top terraces!
While you're not necessarily guaranteed a private bathroom, these Guanajuato accommodations for the budget-conscious are clean, comfortable and centrally located- more than adequate places to drop your bags and get some shut-eye!
Budget Accommodations in Guanajuato
Casa Bertha
Casa Kloster
Casa Mexicana
Hotel Alhóndiga
Hostal Cantarranas
La Casa del Tío Hostel