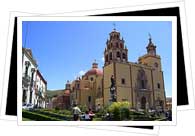 In addition to playing a central role in the rise of Guanajuato and, later, the quest for Mexican independence, the Alhóndiga de Granaditas and its environs encompass a major part of Guanajuato's current cultural scene. Two of the city's most important cultural venues are found here - the Guanajuato Mummy Museum and the La Alhóndiga Museum, an homage to Guanajuato's culture and history - and the Plaza Alhóndiga takes on new life as a stage during the Cervantino Festival.
The Museo de las Momias, or Mummy Museum, is without a doubt one of the city's most popular - and definitely its most morbid - attractions. Over 100 mummies, which were discovered with quite a bit of surprise when they were disinterred from the overcrowded public cemetery to make room, are on display. For more information, click here: Guanajuato Mummy Museum.
The La Alhóndiga Museum is a regional art and history museum that pays homage to Guanajuato's history and culture. Dispersed throughout two floors of the Alhóndiga building are endlessly interesting exhibits showcasing everything from precolumbian archaeological finds to ceramics, photography and historical pieces from the city's most decisive historical epochs.
Where to experience culture in and around La Alhóndiga de Granaditas
Museo de las Momias / Mummy Museum
Museo de la Alhóndiga de Granaditas / Alhóndiga de Granaditas Museum